This past weekend was definitely one to remember.. My new friends Britny, Angel, Jacquelynn and I took a trip down to Busan for the Indian Holi Hai colour festival. I've been having all sorts of fomo what with every cool event in the history of events happening in Joburg this year, and every cool band in the history of bands deciding to finally visit South Africa.. the year that I'm not there :| Every Facebook post and tweet I've seen from back home lately has been about the Holi One festival that's going to be happening in Joburg soon. So when I got sent an invite to one that was happening right here in South Korea, I knew we had to go.
At 6am on Saturday morning, after a 2/3 hour sleep after meeting new friends in Ansan the night before (not the smartest idea Meryl, but yay for new friends!) I headed to the bus stop to take me to the train station to catch a 5 hour train to Busan.. Sleep the whole way? you would think so.. I think I was too excited, not only for the festival but also because this would be the first time I would be seeing the ocean in a year! After checking into our hostel and having a quick power nap (it had to happen), we were ready to take on Busan :) Haeundae Beach reminded me a lot of the Durban beach front back home. Sea in the front, skyscrapers in the back.. It was pretty cool nonetheless.. also when you've lived inland for your entire life, you'll take any beachfront, anyday.
The Holi festival was the next day. I woke up to a ton of South African voices throughout the hostel (I think everyone was having the same fomo issues as me haha), scoffed down some of Brits power eggs and toast and headed to the beach to start the festivities.
The festival was awesome, we arrived and got our colour packets as well as complimentary Samoosas and beer. Brit and Jac shotgunned.. video below haha :) After a short countdown everyone opened their packets and we were covered in paint from head to toe. It was so much fun. It started out as only the Holi Hai participants having a party on the beach and ended with everyone that was walking on or even past the beach that day getting roped into partying with all these crazy foreigners.. a group of adjumas joined the party too!
We ended the day eating Mexican food, playing cards in the local cafe and finally the best way to end every adventure in Korea.. Noreabang!
Before
After
It was probably one of the most non-Korean weekends we could have ever had. I mean an Indian festival, after party in an Irish pub and eating Mexican food for dinner in no way screams Korea but it really was one of the best weekends I've had here so far:) I've really been lucky to find such amazing friends here too, if I had any doubts (I didn't) this weekend proved that these girls are definitely keepers!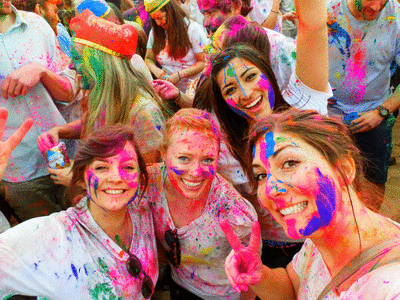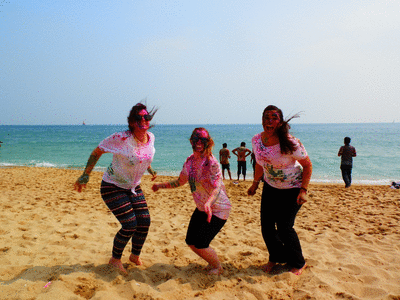 Some random videos from the day:)
Mud festival and Ansan Rock next :D